Role
Visual Design
User Experience
The Ask
Marriott International asked us to create a website for people to explore different career paths within the company. We created an experience where potential and existing employees can see all that Marriott has to offer.
UX Challenge
Mariott's campaign was called "Here's to the Journey." While another agency focused on content creation and creative direction, we were tasked with creating a digital experience that showcased growth opportunities at Marriott.
Our users' goals were:
To find job listings by title
To explore various career opportunities at Marriott
To explore the benefits of Marriott International
Because this would be a microsite for the Marriott platform, it had to serve users interested in the company's 30 hotel brands, covering 5,700 properties, across 110 countries. With such a massive and varied user base, it needed to be accessible to people with all abilities, according to WCAG 2.0 AAA standards, and it needed to be translated into 20 languages.
Marriott works with a third-party site to handle their career listing. So we needed to show all of the job offerings of Marriott, but we couldn't directly share any job listing information. This challenged us to find ways to funnel users down a particular career path before jumping them off the site.
UX Approach
Our strategy focused on creating an experience that felt organic and directive. At the highest level, we gave job category titles that spoke to the core identity of the individual (i.e. The Artists, The Planners, The Hosts). This approach required us to create taxonomies of the different paths that hadn't been defined before. We used deep linking with the third-party site so it wasn't wasted time for the user once they navigated to a specific job area. For example, if a user jumped to the job listings page from "The Artists" page, it would take them to a filtered results page on the third-party site. From there, they could identify a position from a more diverse set of offerings than if the jobs were simply categorized by department.
To showcase the culture of Marriott International, we used feeds from various platforms to keep the brand feeling current. We fed in content from their blog sources, videos from their Youtube Channel, and images from their Instagram.
We also created employee testimonial modals that featured different employees in Marriott. These modals featured a Q&A with employees from different career paths to speak about their growth within the company.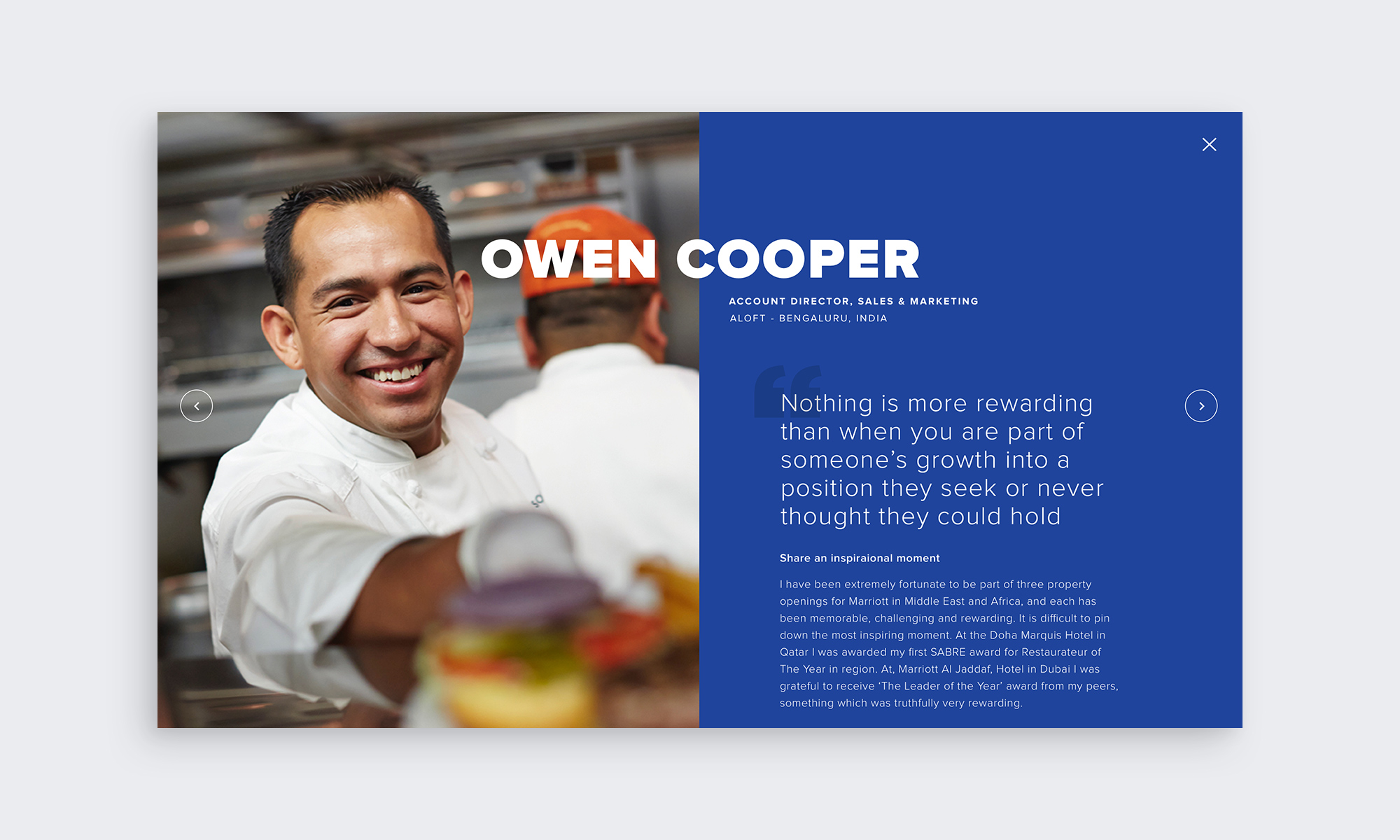 Since we needed this experience to be translated into 20 different languages for 110 countries, we had to get crafty with how we managed margins and space. We needed to optimize the white space across devices to work seamlessly for character-based language and languages with different sentence structures.
Design
We needed to strike a balance between the Marriott brand guidelines, visual guidelines set by the campaign, and readibility of UI based on ADA compliance. Because so much of the creative direction was previously defined, we looked to innovate primarily using the grid and layout.

Content was housed in large color blocks that alternated down the page, content sat layered on these color blocks to catch the eye as the blocks guide the user down the page. Modals and the navigation featured colored backgrounds to optimize the use of the campaign color scheme.

Design System
We worked with our development leads to build a design system that would be flexible enough to be managed by the Marriott team admins. We introduced a system that identified the anatomy of each of the modules on the site. The team was then able to use this defined language as they built out each of the pages of the site.